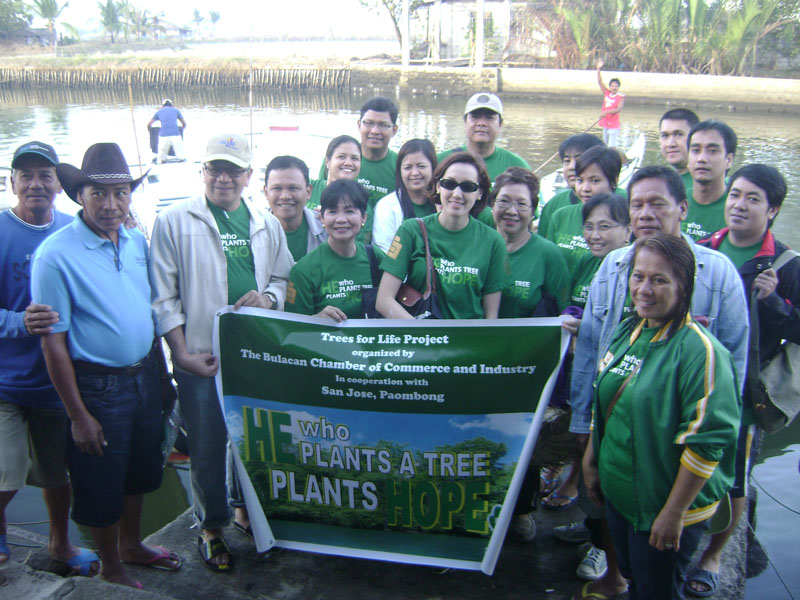 BCCI has taken a step further in its advocacy effort. It has adopted an innovative strategy of positioning itself in the localities within its jurisdiction, by organizing municipal business associations in the different cities and municipalities. By doing this, BCCI is ensuring a strong organizational base at the grassroots level and a more binding relationship with the local government units. To-date there are 19 local business councils formed through the intercession of BCCI.
BCCI, together with the implementing agencies (DTI, DILG, DOLE and BIR) has also consistently rallied qualified enterprise owners to avail of the incentives being offered by the Barangay Micro-Business Law.
As a responsible citizen, BCCI believes that it must serve as a living example in practicing corporate social responsibility.
Seizing its role as chief advocate of the Bulacan business sector, BCCI is organizing tree-planting activity under the "Trees for Life Project". BCCI is committed to take steps towards promoting awareness on environment management to address the issue of global warming.
BCCI is also organizing emergency assistance to community during times of disaster and calamities and other outreach programs like gift giving activity for street children, and school package donations for child laborers.
BCCI actively supports the "Save Biak-Na-Bato Movement"
Other advocacy programs of the BCCI are the installation of Family Welfare Program in the Workplace, funded by the USAID-PRISM Project.